Before You Start Using ServiceNow
FOA supervisors can contact AdminITHelp or their team's ServiceNow Assignment Group manager to request new access to ServiceNow for their staff. Once new access is requested, the ServiceNow training module must be completed for access to be provisioned.
---
Understand the tool basics by reading this document: ServiceNow Tool Overview (PDF)
---
Tips and Tricks for ESS Users
Creating Tickets
Depending on the queue, you may or may not need to create tickets (ticket = incident throughout ESS materials). Most are already created in SN by users emailing the various help desks (or phoning, where phones exist— FOA FIS, FOA TRS/PPS).  
Emails
Emails sent to you personally can be added to the appropriate queue by forwarding to the queue's email. You should always do this if someone contacts you for help directly by email.
ESS Standard processes for FOA queues 
Where ESS provides Tier 1 support 
Assign incident to yourself and fill in required fields (category, Configuration Item, etc.). 
Edit description if needed, and add any other relevant information.  
Priority is set following the SN protocols described in the incident impact/urgency/priorities document attached to KB0001197 (above). Normally it is left at the default level (low impact/low urgency), see chart to decide when/if it needs to be changed. 
Classifying Issues 
Fields 
Complete Fields marked with a red line; these are required to be filled in (caller, category, short description, department name, subcategory, configuration type, state, and assignment group). Use your best judgment about the actual issue to determine the category; often it may not match what the user says. Options are limited so follow the guidelines below to choose the best fit. 
Category options
Request > requires subcategory (new/change/how-to/feature request): use for access setup, change, help to edit a building, room, instructor. Also, use this for questions that ask how to use a system feature"How do I...?" complete (Request>how to option.)  
Service Disruption > requires subcategory (complete/partial/performance degradation). Use this if something is not working correctly, such as a broken report, system slowdown, broken link, etc. 
General Inquiry > no subcategory needed. Use for questions such as "where is the …?" or "when does the system open?"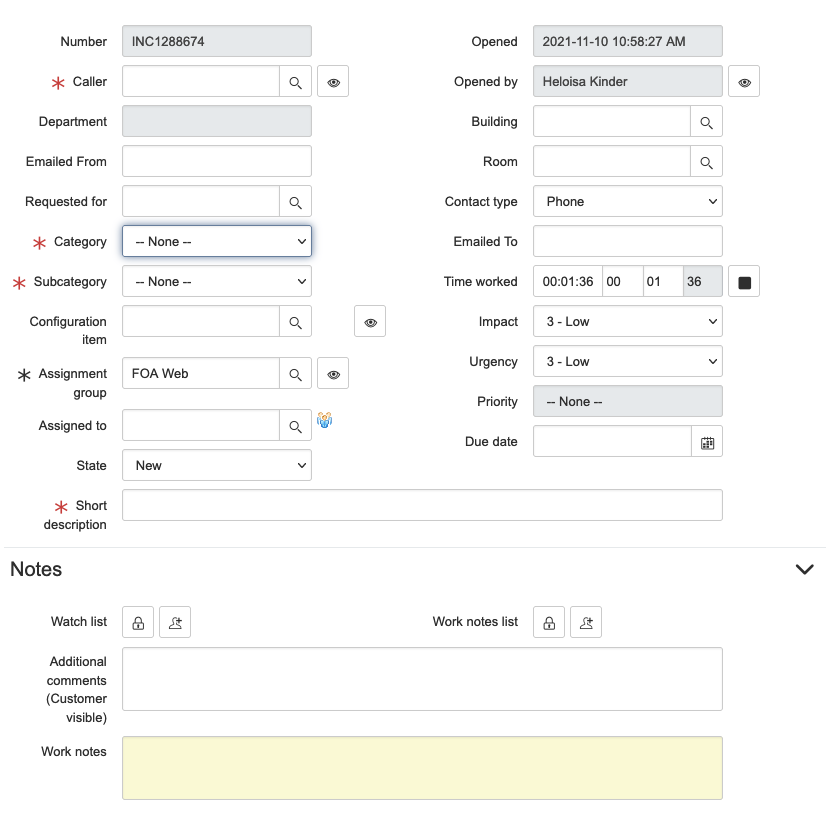 Configuration Items (CIs)
These vary by queue, in number, and use:
FOA DESII has few, FOA AggieBudget several, FOA FIS has many. To see all the available CIs for a queue you can type the first few letters in the CI field and then search with the search function.  
FOA AggieBudget: All begin with AggieBudget except existing all-purpose items such as Training, Email Lists (Sympa)  
FOA DESII: DESII, Training, Email Lists (Sympa) 
FOA FIS: Most CIs begin with KFS or FIS and align with KFS document type categories. See box file at https://ucdavis.box.com/s/qjk6se6rdls8kvtcvqk4b9db52ton1i8 
Tags 
ESS uses a variety of tags to refine CIs in some queues. They are listed in the SN system and are searchable there. We have a list of current tags in a spreadsheet with CIs (saved in box.com).  
Tags may also be created to identify a number of incidents related to a one-time issue; if you are tracking the issue it is a good idea to share the tag with your group for consistency (you can all use the same tag). 
Escalated items
Used in FOA FIS primarily, these can be added to identify the queue where a child ticket is created to refer it to another AdminIT queue (FOA OPS). (Current list in box.com at https://ucdavis.box.com/s/7gsvosqxrcw7bhsfjvpwcdxowqznc4bh 
Responding to a requester (caller) in ServiceNow 
Respond to the caller as soon as possible to ask for more details, get the required information, forms, etc. If the problem or question is hypothetical or vague or does not contain enough information for you to help them, ask for details and/or screenshots to explain it to you. 
Suggest links, give them tips, answer questions when possible. 
If you don't know how to answer or where to direct them, write a work note to a more experienced help desk colleague, or system user.  
Bugs/document or system problems 
Try to recreate the issue in PROD or Test environment, as appropriate. 
Restate the issue in a brief work note to a more experienced help desk colleague, or system user if you aren't certain it's a bug; ask if they have any suggestions 
Escalate the issue to the appropriate Tier 2 support (varies by queue) 
If there are multiple ServiceNow tickets for one defect, Tier 1 may designate one incident to be the parent ticket (first report, most complete information, or clearest description), and add the incident number of this ticket in the Related Records tab of all the other tickets, making them child tickets. This enables Tier 1 to update them using the SN mass update tool. (And/or create and use a tag to label a group of related issues, when there is a large number. 
Related Records Use 
*Note that All FOA queues where ESS provides Tier 1 use Related Records/Related incidents for reasons other than outages to group similar tickets. (However, the ServiceNow incident management training says to use it only for outages.) 
For example, the help desk chooses the first (or the ticket with clearest explanation and example) and adds that ticket number in Related Records of other tickets about the same issue (that ticket becomes the parent). This helps track the problem, find all tickets, and notify all users when there is an update. Tickets with related record added become child tickets. 
Incident status and updates 
One-off cases 
Keep the Tier 1 ticket open until the issue is resolved, change state to Awaiting third party if you think you'll need to respond individually to the caller (end-user).  
Once the issue is resolved, notify end-user and close ServiceNow ticket 
Multiple reports of one issue or defect 

Add tags and/or parent ticket number in Related Records field 
Notify user that it's a known issue and you will let them know when there is an update (or when it is resolved/ fixed) 
Resolve the ticket (reason: Transferred to system). Okay if a message is going to be sent out to a list of users notifying them of progress. Or change state to Awaiting third party if there is a further need to communicate. 

Ticket 1: User reports a bug, error, or outage 
Tickets 2-xx: Other users report same or similar issues 
ServiceNow Incident Training
Getting Started with Reports
ServiceNow Reporting & Dashboards