Need to translate your documents?  You are in luck!  Microsoft Office 2013 apps such as Word, Excel, and Outlook have a built-in Translator feature.  Using the Translator feature is very easy if you follow a few short steps.
Click on the Review tab from the Ribbon menu.

Highlight what you would like to translate.
Select the "Translate" button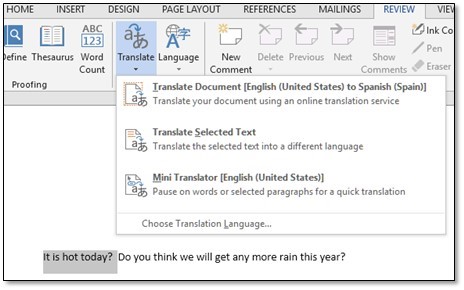 Choose "Translate Selected Text".
A Research side bar will open on the right hand of the monitor.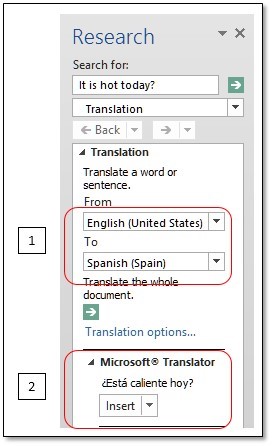 Select the languages you would like to use the drop down arrow
You will see the translated phrase
Using the drop down arrow, select "Insert" or " Copy" to add the newly translated phrase to your document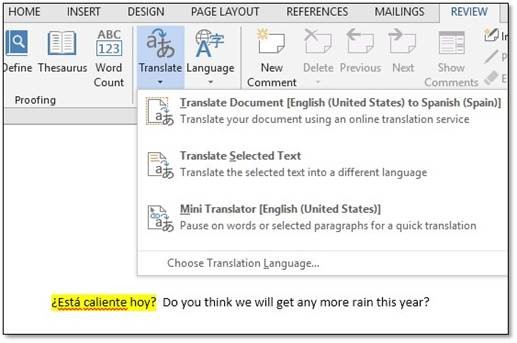 If you would like to translate the whole document, simply set the language you would like using "Choose Translation Language" followed by "Translate Document".  This will open a new explorer window to use an online translation service.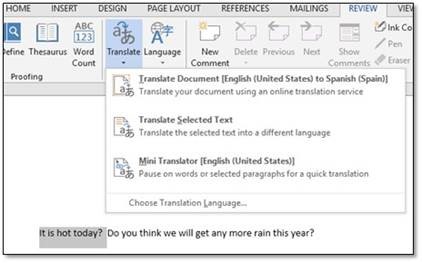 Espero que hayas disfrutado de punta de hoy!
Category