To download on your personal computers:
Sign in to Office 365 at http://officedownload.ucdavis.edu with your Office 365 user ID (complete UC Davis email address and Kerberos passphrase)
At the top of the page on the right side, click on the Settings Gear and then Office 365 settings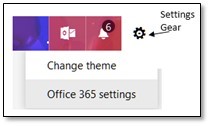 Choose the Settings tab found on the left side of the page
Choose Software
On the Office page, you have your choice of Office 2016 apps or Office 2013 apps.  The Office portal defaults to Office 2016. If you'd prefer to download the Office 2013 apps, use the down arrow at the bottom of the page to expand Install Office365 ProPlus with the 2013 apps.
Select a Language, and then choose Install
Review the Knowledge Base article from IET for more information as well as information for downloading the Apps on mobile devices.
Additionally, staff can also purchase the 2016 Office Suite from Microsoft Home Use Program.  This program enables you to get one licensed copy of Microsoft(r) Office 2016 (PC) or 2015 (Mac) to install and use on your personally-owned home computer for only $9.95.
Category