Cutting, copying, and pasting are commonplace tasks in Microsoft Office. For documents needing extensive revision, these tasks can sometimes be too commonplace, requiring repeated scrolling up and down the document to find and move pieces of content one-by-one.
Computers store copied and cut items in a location called the clipboard. Paste will restore the last item copied or cut. However, Office isn't simply storing a single item, it remembers up to 24 or the last copied or cut items, including text, pictures, and tables, any of which can be individually inserted into your document.
To view all of these edits, click the launcher arrow in the corner of the Clipboard group on the home tab.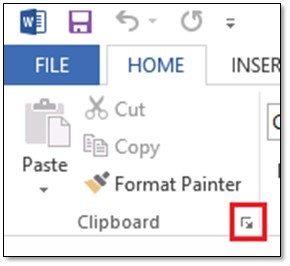 From there you can select individual selections to paste, delete individual selections, restore all selections in the order that they were made, or clear the entire clipboard. The clipboard persists across all Office apps, such as Word, Excel, PowerPoint, and Outlook. The selection's source application is denoted by the icon next to each clipboard item.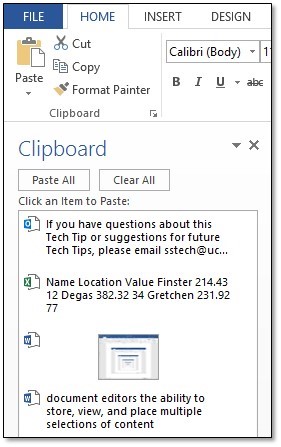 Category