When you want to add recipients to an Outlook email message, you can select the To, Cc, and Bcc buttons to choose a recipient from your contacts or manually type the address. If you type the address in the To, Cc, or Bcc boxes, you'll notice that Outlook provides suggestions as you type. These suggestions are stored in the Auto-Complete List.
Outlook builds the Auto-Complete List by saving the names and addresses of recipients of email messages you've previously sent. As the list grows, so does the number of suggestions that are offered as possible entries. You can trim the list by removing one or more recipients, or you can turn off Auto-Complete List completely.
As we complete our transition to Administrative IT, now is the perfect time to remove the old SSTECH@ucdavis.edu email address from your Auto-Complete.  You can remove one or more recipients that show up as suggestions in the Auto-Complete List.
Enter one or more characters in the To, Cc, or Bcc boxes. Then in the Auto-Complete List that appears, select the unwanted suggested recipient by using the arrow keys or by hovering your mouse over the name you want to remove.
Choose  or press Delete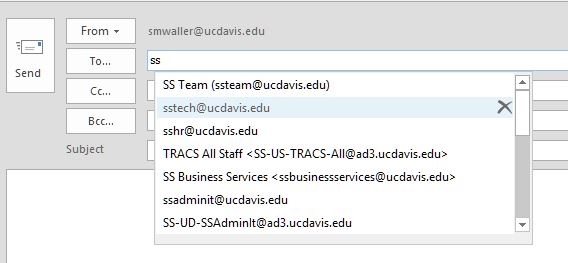 By default, the Auto-Complete List option is turned on, but if you'd like it turned off, please follow the instructions found here.  There is also instruction to clear your entire list at the forementioned link.
Category