Sign PDFs Electronically
When you need to sign a PDF file and would like to avoid the trouble of printing, signing, and scanning the page, consider using Adobe Acrobat's signature tools. Access these tools by clicking the Fill & Sign button near the upper right-hand corner of the Acrobat window.
On first use of the Place Initials or Place Signature buttons, you'll choose how to create your signature. You can type the signature in one of Acrobat's handwriting fonts, sign a blank sheet of paper and capture the signature using your webcam, draw your signature with a mouse or stylus, or use an image from your computer, such as a picture or scan of your signature. Certificate signatures are needed only for situations with strict authenticity requirements and may require the assistance of IT staff to configure.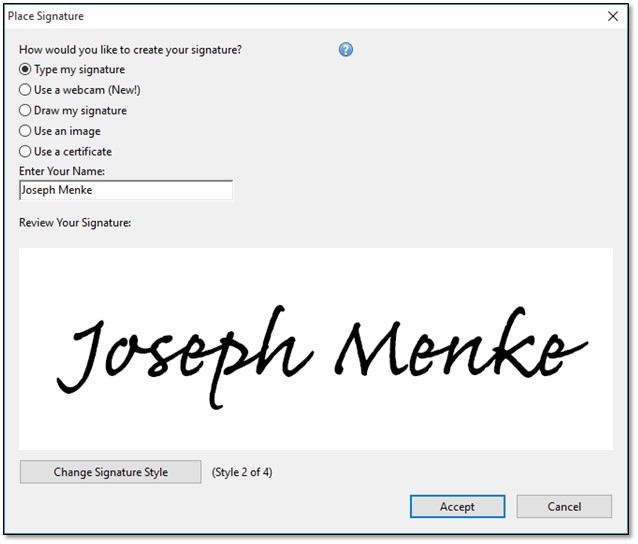 Once your signature's been accepted, it will be saved and can be stamped onto future documents simply by clicking the Place Signature button.
Is an electronic signature as good as a pen and paper signature? Electronic signatures have variable levels of legitimacy. The methods listed above may suffice for some situations, but when the strict authenticity of your signature is required, consider using a third-party electronic signature service such as DocuSign or Adobe's eSign. When in doubt, ask the recipient if they will accept an electronic signature.
Primary Category