The Safety Services website (http://safetyservices.ucdavis.edu) has been upgraded and incorporates new features that can streamline your work processes.  The upgraded website search engine utilizes techniques that can help you find what you are looking for faster and more efficiently.  When you search on the new site the matching keyword results are listed by the most recently updated pages at the top.  Here are a few ways to narrow your search.
Searching for Laboratory Safety Manual returns approximately 50 matches.  This is because the website found matches for pages where the words, Laboratory, Safety, and  Manual appear anywhere on the page, and not necessarily in that order.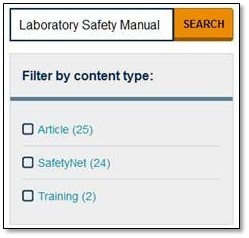 However, quotation marks can be used to indicate exact matches, so "Laboratory Safety Manual" would return only five results in which the whole phrase exists on the page.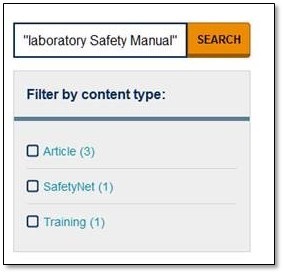 Using filters will also help you find what you need easily.  For example, a search of Fire Prevention returns over 100 results.
Use the filters to narrow the search for what you are seeking.  For example, filtering for the content type of SafetyNet, the category of Chemical Safety and a tag of Equipment Safety, will narrow your results to five.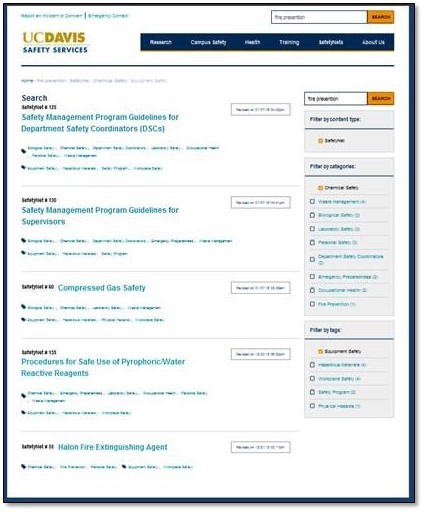 The website search tool was developed for us by a third party vendor and isn't a Google search engine.  All of the techniques that work for Google won't necessarily work for our site.  The best approach would be to start with as few words as possible and then use the checkbox filters to find a match, adding more words to the search as needed to obtain the match you are looking for.  Adding quotes to the search keywords will also refine the results that are listed as matches.  Using this combination of search tools will assist with direct matches for the content you seek.
Category